Welcome to Judy's Corner of the Internet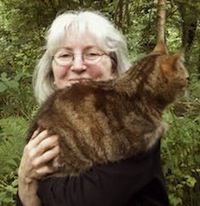 Hi, I'm Judy of the Woods, an off-grid homesteader since 1993 and a life-long creativity addict with a severe case of OCD™ - Obsessive Creative Desire. Here I share some of my experience and sometimes unusual work on the wide spectrum of self-reliance.
Maybe you want to start a part-time or full-time business, produce your own electricity, forage for wild food or even build and furnish your own tiny house. You will find a diverse assortment of articles, tutorials, proof-of-concepts and tools to inspire and help you gain a little more independence. A good mix of creativity, will, pragmatism and technology go a long way.
Below is a brief introduction to each section of this website.
Business
If you have, or are planning a small business with an online presence, you can find some useful technical and other information here.
Creativity
Whether you have small or big problems, want to design an object or an entire system, or need the clarity for a big or difficult decision - it helps to have a process and tools for the job.

Productivity
Well, what can I say about this section! If you are a productivity, creativity and paper fan, you might just find yourself in heaven.

Make It
There are practical ideas throughout this website, but here are a few tinkering and craft ideas, projects and stuff which does not fit in well elsewhere.

Simple Living
The pages of this section show my alternative off-grid life style with solar and hydro electricity, the log cabin and tiny house I built and how I live in a compact space.

Wild Food
Information on the use of wild plants, as well as a free mobile foraging guide for northern Europe and temperate N. America, and a moderately priced PDF version for N. America.