Foraging News Snippets
Foraging Guides and Herbal Products for the USA
Learning Herbs* sell a number of herb related products, including some foraging guides for the USA. They also have a free herbal course.
A Tasty Way to Eat Spirulina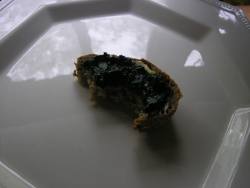 Just couldn't wait to take the photo without taking a bite first.
This post is a little out of season, but if you have some dried wild garlic and nettles (or any other herbs for that matter), and would like a recipe for a tasty way of consuming spirulina powder, a rule-of-thumb basic recipe follows below. The combination may sound weird, but it tastes great in my opinion, and some of the ingredients are quite strong in taste and disguise the odd spirulina flavour. This gunk can be made thick enough as a sandwich spread, or thinned down as a dip or salad dressing.
Try some of the following:
a dollop of peanut butter, tahini or other savoury nut/seed spread
mix in some plain yoghurt (or oil or vinegar) to make it 'mixable' for other ingredients
add a crushed clove of garlic
add some bullion powder, salt or other spices if desired
add chopped herbs to taste (may require some more moistening when using dried herbs)
slowly mix in about a tea spoon of spirulina powder and adjust consistency with yoghurt, or whatever, until it is thick or thin enough for your purpose
Mmm, I'm off to make some and have a sandwich.